This is something I have sat on for the last few weeks, but during my reelection campaign, I received an anonymous letter, via the Guildhall (Cambridge City Council HQ). The letter is reproduced below:
(please read the rest of the blogpost underneath after reading the letter)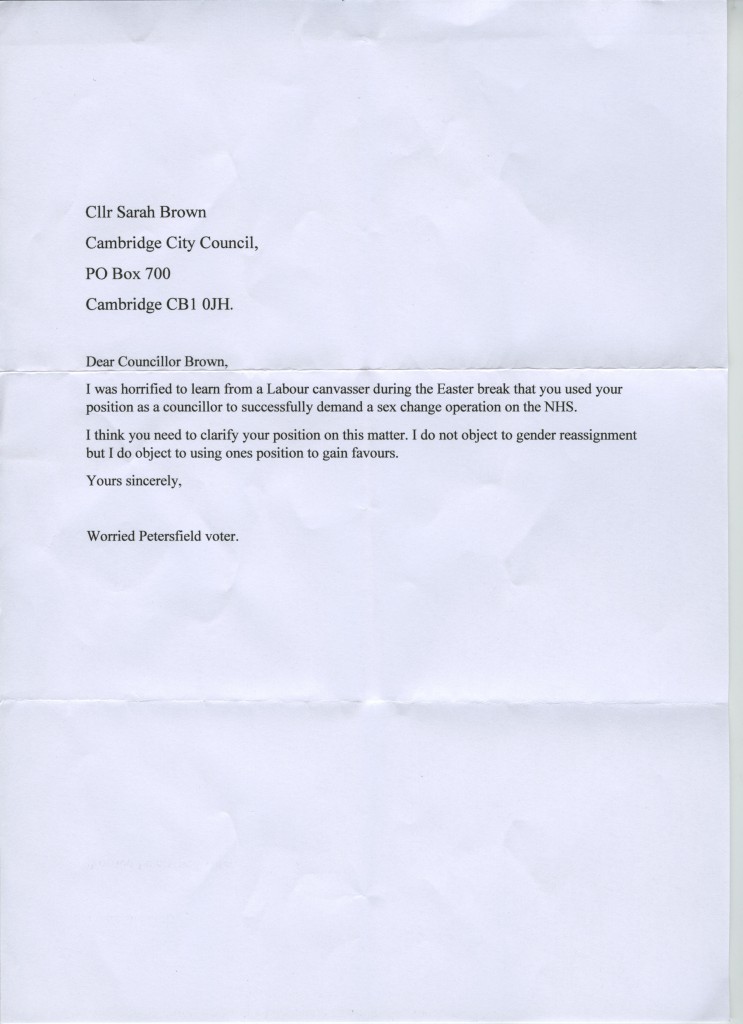 You can click on the letter to see the full size version.
I want to make something perfectly clear before I go on.
I do not believe that a Labour canvasser said this, not for one second.

I may disagree with Cambridge Labour on many things, but one thing we do not disagree on is the need to keep personal attacks about LGBT status out of our politics. There has been a long understanding between us that the trans thing is not up for use in a political campaign. Cambridge Labour have always honoured that, and have several LGBT local councillors themselves. Despite our political differences, I count some of them as friends.

I showed this letter to the leader of the City Council Labour Group at the election count, and he was mortified. I think the claim that a Labour canvasser said that I used my position to demand SRS on the NHS is a lie.

Note that the leaflet is anonymous. If people were actually going around saying this, other local residents would have heard it. Local Lib Dem activists would have heard something via the grapevine. It would have got back to me in other ways. It never did. Nobody heard anything. I checked.

Cambridge Labour activists did not do the thing this letter accuses them of doing.
Now I want to address the central claim in the letter: that I used my position as a councillor to demand sex reassignment surgery on the NHS.
Firstly, what would demanding sex reassignment surgery look like? SRS is something that the NHS provides. One no more demands it than one demands an appendectomy. It's something doctors either decide to refer you for, or they don't. I have my own thoughts on this, but that is a discussion for another time.
Secondly, if I, or any other (former) councillor, started using the, "do you know who I am?" line to demand preferential treatment on the NHS, we would be reported by the NHS for corruption and get in deep trouble.
Thirdly, I guess the only thing such a "demand" could do is to allow me to somehow jump the waiting list queue. It can be a bit lengthy.
So here are the facts:
I had sex reassignment surgery on January 4th, 2007.
I had this performed at the Sussex Nuffield Hospital in Brighton by Mr Philip Thomas, consultant urologist.

The Sussex Nuffield Hospital is a private medical facility. I was a private patient there.

I paid for the procedure out of my own pocket. It cost a round £10,000.

I was elected in May 2010. I joined the Liberal Democrats in January of the same year.
Therefore in order for the claim to be true, I would have needed a time machine and for the NHS to pay my medical bill. Disclosure: at the time, I applied to the then Cambridge City, and subsequently Cambridgeshire Primary Care Trust, to pay said medical bill. They said no. I appealed, they said no again. End of story.
All of this happened years before I became a councillor.
The letter is, to use the vernacular, total bollocks.
So why was it sent?
I think somebody sent it in the hope I would release it to the press during the election campaign in an attempt to smear both me, and by implication Cambridge Liberal Democrats, and also Cambridge Labour. Possibly it was sent by some right wing agitator wanting to stir up trouble, possibly it was sent as part of the campaign of harassment which a group of trans exclusive radical feminists had been waging on me since February this year.
I had letters of complaint about me written to the Lib Dem central office in London, my local MP's office and the City Council that I know of. All were seen to be vexatious. All were dismissed. I had my blog subjected to a denial of service attack and my email hacked at exactly the same time as two other people I know on Twitter who also vocally opposed these people.
And I had this letter.
Maybe these things are unrelated, maybe they are not, but there's a nasty smell around all of this.
Finally, I want to thank those of you in Cambridge Labour who helped me out when these people did try to smear me again recently. You know who you are, and I owe you all a beer.